The Water Mitigation Process
10/16/2018 (Permalink)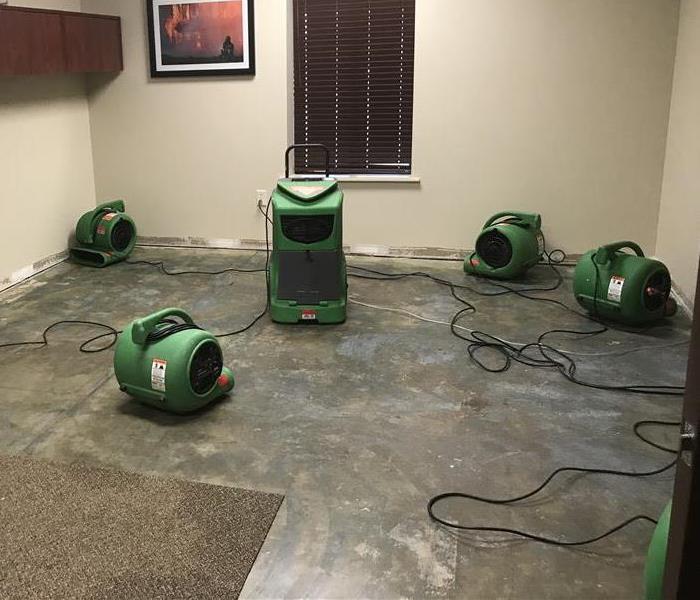 Air movers and dehumidifiers (pictured) are two essential tools used in the water mitigation process.
This is an update/revision of this 2015 post.
Water removal is a complex process that requires numerous techniques and tools to accomplish. Depending on the extent of the damage, there can be multiple steps required to make it "Like it never even happened." To give a basic understanding of the steps typically required during water restoration, we've provided the outline below.
Water Damage Removal and Restoration: A Brief Overview
There are four essential parts of the initial water damage restoration process. These steps are water removal, moisture mapping, mold prevention, and water drying. Below we take a further look into these four processes.

Flood Water Removal

The first step in the water restoration process is actually comprised of two parts. First, our technicians have to identify the source of the water damage and ensure it is no longer contributing to the issue. In some cases, an outside party—such as a plumber—is needed to fix the problem before our work can proceed.
Our certified SERVPRO techs will then use various equipment to remove any standing or excess water. Depending on the amount of water, we'll use anything from powerful water pumps to specialized vacuums to remove the water.

Moisture Mapping

Moisture mapping is the process of generating a map that indicates the moisture values of your property. One of the most common ways to do this is to use a moisture meter to determine the relative moisture levels in an area or material.
In addition, our restoration specialists will take photos to help assess the extent of the water damage to your property. These photos also provide you with historical evidence of the water damage.

Mold Prevention

If unaddressed, residual moisture caused by a leak or natural disaster can give rise to mold growth. To prevent this from happening, our technicians will apply an antimicrobial treatment to the affected area to help prevent mold growth.

Water Drying Techniques

There are drying techniques that our water damage restoration experts can use to get your residential property back in shape. While there are a few, the main two are:

1. Air Movers

Air movers are focused, high-velocity fans that help facilitate the drying process. These evaporators work by promoting air circulation and thus diminishing and controlling humidity.

2. Dehumidifiers/Desiccant Dehumidification

Dehumidifiers remove moisture from the air. These always accompany air movers because they draw out the moisture from the humid air that the air movers produce. In conjunction, they can drastically accelerate the natural drying process.
Restoring Your Home after a Disaster
SERVPRO of Burke County has been part of the Morganton-area community for several years, and we have worked with numerous local homes and businesses after they've had water damage. If you need professional help removing and drying water, you can call SERVPRO of Burke County at (828) 874-0966!